Dean Baker is sometimes skeptical of IP excesses,1 though he's no abolitionist.2
But as I said, sometimes he has a decent point when criticizing IP. For example, see his "Working Paper: Is Intellectual Property the Root of All Evil? Patents, Copyrights, and Inequality" (2018), which persuasively argues that abolishing patents would save about $827 billion annually, with some products becoming more than 90% cheaper.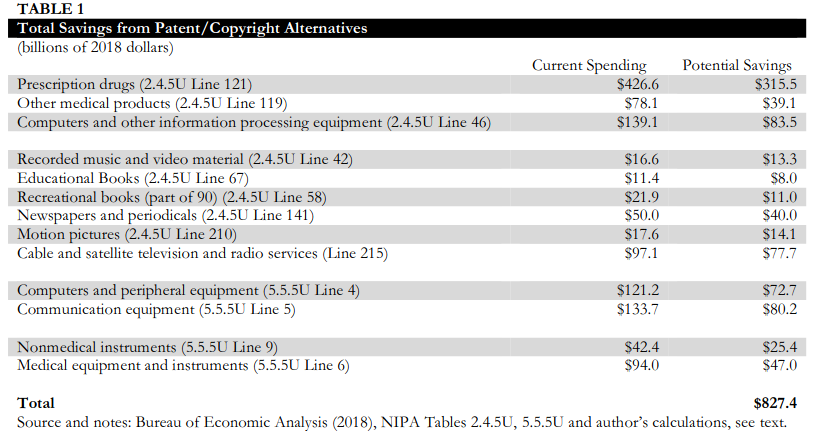 See also "Costs of the Patent System Revisited.
Of course, Baker himself proposes an "alternative" to the patent system that would cost even more than the trillion his patent abolition would save:
I do not support a prize system …. A prize system would preserve what I see as some of the worst problems of the patent system, most importantly encouraging secrecy in research. … My ideal system would be a system in which the government allocates a pot of money (@$30 billion a year–approximately equal to private R&D in the pharmaceutical sector) that would be awarded in long-term contracts to a relatively small number of master contractors. For example, there can be 10 master contractors getting grants of roughly $30 billion each spread over 10 years.3
But as I have explained, if this approach were scaled to other areas covered by patents and to other types of IP, it would result in perhaps $3.5 trillion or more per year of additional taxes and spending.4 So he's right that eliminating patents would make us vastly richer, but we should not replace the current patent tax with another type of (perhaps greater) tax. This is the problem with not having a principled opposition to patents and only wanting to tinker and "reform."
H/t Vincent de Van.5