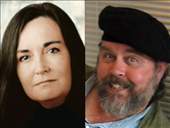 My article about the debate on 1983 intellectual property between Wendy McElroy and J. Neil Schulman appears today on Mises Daily, as "The Great IP Debate of 1983," Mises Daily (July 18, 2011). The article links to the recently-found audio of that debate, which was put up as a Mises podcast last week. It's a fascinating listen. As the Mises blurb about it reads, "In this wonderful debate, we find the whole of the theoretical apparatus of the anti-IP case presented with precision and eloquence."
Archived comments from the article and from Jeff Tucker's blog post are reprinted below.
Update: The audio file of the debate may now be found here. See also Schulman's My Unfinished 30-Year-Old Debate with Wendy McElroy, and McElroy: "On the Subject of Intellectual Property" (1981).
Archived comments from the article:
Archived comments from Jeff Tucker's blog post: